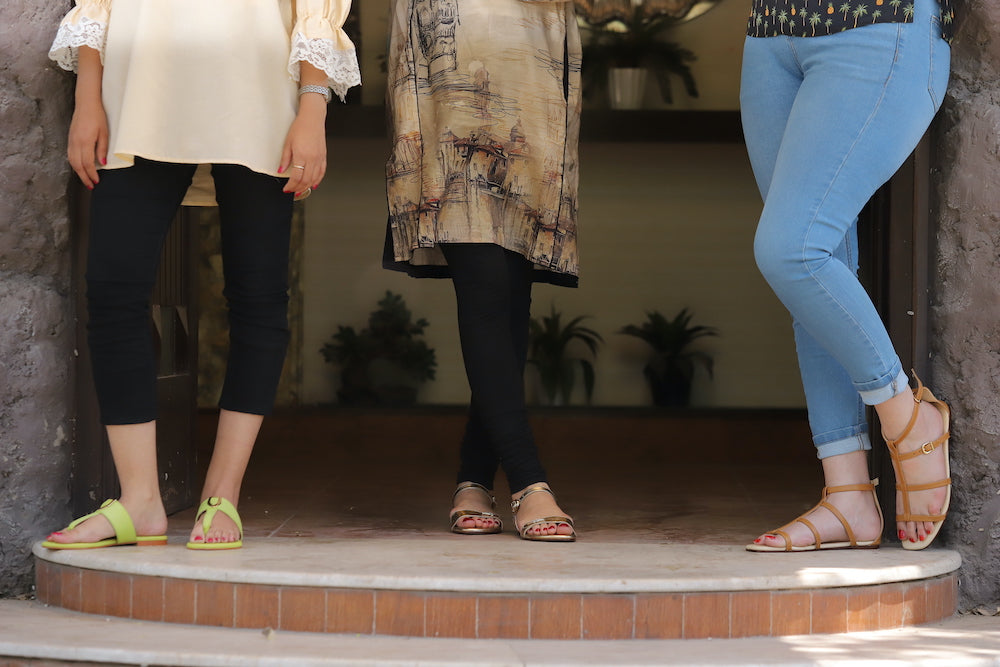 The Ultimate Guide to Buy Female leather Shoes
When it comes to fashion, few items make a bigger impact than your footwear. However, getting the ideal combination might be difficult and worrying because shoes are usually the first thing people notice about you. Women can explore a broad range of leather shoes, each with its individuality and history. All are recognized for being desired, gorgeous, and functional, all at the same time. However, the enormous number of women's shoe designs available might make it difficult to select the ideal option for specific occasions.
There are varied factors like design, colors, heel size, quality, and comfort of the shoe that you should consider before buying shoes. These factors will not only determine how you feel but also add to the impression you are presenting. And, before you begin looking for your dream pair of leather shoes, you should be well-versed in this information. Well, you do not have to search any further. This post will go over all you need to know about selecting the perfect pair of leather shoes. Keep reading to find out how to pick a decent pair of formal shoes.
Find the Best Fit
I am sure you are aware that the first thing you should consider when choosing a pair of shoes is the size of your feet. It often happens that perfectly fitting shoes at the store may appear a touch tight during the event. When our body temperatures rise above normal, our feet may swell little, resulting in a swollen foot. This issue may not affect everyone in the same way, but it is advisable to be cautious. So, it is best to go shoe shopping or get your feet measured in the afternoons or evenings.
Should You Wear High Heels?
It is an age-old debate: do formal shoes should have heels? If you are not comfortable with them, then NO. However, most formal shoes for professional contexts should have a slight heel. You do not want them to be too low, but you also do not want them to be too high. A heel of no more than an inch in height is appropriate for formal shoes. This is true for both men and women. However, if you are a lady trying to dress up for a fancy formal event, taller heels may be essential. In that situation, please use caution while selecting a heel.
Color Exploration
Neutral shades like brown, black, and grey are the finest and safest choices for formal footwear for both men and women. When wearing pastels, nude is a preferable option to go. You may also experiment with silver, cream white, blues, and purples. However, black is the most adaptable and will go with any color ensemble. So, if you can only acquire one pair, go with black. Brown shoes are another great primary color to include in your wardrobe. Women, on the other hand, have a little more latitude in this regard. But make sure you are not lashing with the outfit.
The ideal design
Spend a little money on some designer shoes for a special event if you can manage it. Consider it an investment, and choose comfortable, high-quality shoes with a neutral style that you can dress with a variety of outfits. However, choose a toe shape that is reasonable and not too long. The shape you choose may not look nice with all of your clothes, so to be safe, choose one that is the proper balance of square and pointed. Professional situations are not the place for ladies to experiment with very strappy styles. Instead, choose closed toe, less ostentatious shoe styles.
Things to keep in mind
For formal shoes, women have a plethora of alternatives. However, with so many options available, it is easy to become overwhelmed. Sure, there may be a fantastic pair of shoes for your specific outfit. However, you must make sound decisions about how appropriate it is for the occasion. Ballerina shoes or loafers might be wonderful formal appearance for ladies if you don't want to wear heels all the time. Finally, it is determined by the sort of event you are attending. Nobody is preventing you from going glossy and glitter.
Ladies Leather Shoes | Ladies Flip Flop Slippers Online | Flat Slippers for Women