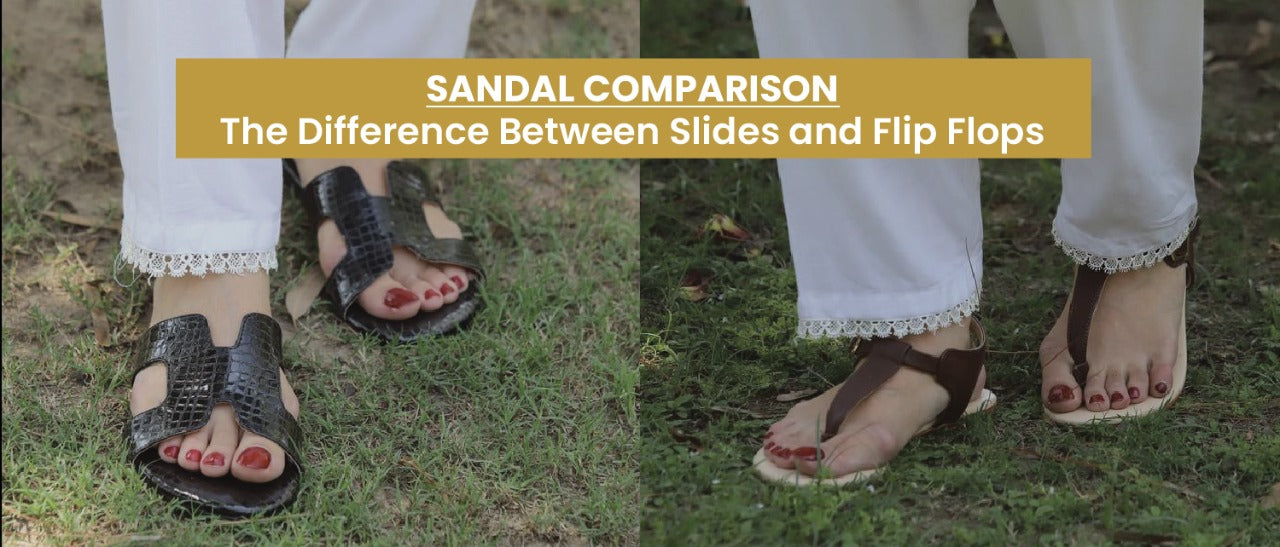 The Difference Between Slides and Flip Flops: Sandal Comparison
When spring season is looming ahead, you tend to start thinking about changing your existing shoes to enjoy a lighter set of spring and summer walking sandals.

Both the seasons offer several different options, however, with weather warming up a little, the real competition starts between slides and vs flip flop sandals.

Whether you would like to go on a picnic with trendy summer dress shoes, or just wanting give your toes a breathe of air, we have tried out to provide you the difference between the two shoes.

Both the type of shoes fall under the category of sandals, so it is useful to know a brief about their background.
Flip Flops
The flip flop is amongst the world's oldest shoes. We find their origin dating back to 4000 B.C.E from Egyptian murals showing variations of flip-flop-type footwear. It is not surprising that our forefathers used to wear them and they were affordable and easy to make from any of the material including leather and wood.

After World War II, American soldiers experienced Zori, a Japanese sandal made from straw which closely resembled to modern day flip flop shoes. These sandals gained huge popularity in the 50s, and American cobblers begun making them with a rubber sole.

Todays flip flops rank among the best-selling shoe varieties on the market. From beachside stands to stylish high fashion boutique shops, everywhere flip flops shine with numerous colours and styles.
Slides
Like flip flops, slides have been around for a real long time. It is exactly not known when humans started wearing slide-like footwear, but archeologists suggest the shoe existed somewhere around 8,000 years ago.

Speaking with regard to modern-day fashion, slides appeared on the scene when artisan Italian shoemakers began making them soon after World War II. Afterwards, slides received popularity in the US during the 60s. It was only in the 70s, however, when they were really caught on.


Core Differences between Slides and Flip Flops:
The Strap
This is the most noticeable difference between flip flops and slides. Although, the function of strap remains the same for both shoes, its placement and design varies considerably on both the shoes.

On a flip flop, the Y-shaped strap is placed near the front of a typical flip flop. It is anchored to the sandal through a hole and goes straight through to the sole. This part of the strap lies between the big toe and second toe. After that, the strap divides and deviates to the left and right to connect to the sides, near the arch of the foot. Flip flop straps variate in thickness and usually made of leather, plastic, rubber, plastic, or fabric.

On slides, instead of going between the toes, the strap has different placement. The foot holds to the rest of the shoe by one or more bands crossing over the foot from one side to the other. The strap looks like a belt. Its width varies from slide to slide. Strap on slides is normally made of firmer materials, especially when it carries a buckle for size adjustments.
The Insole
Width and Shape – Flip flops tend to get the shape of the foot. Slides are often a bit wider and especially visible near the toes.
Height and Wedge – A wedge lifts the heel at the back of the sandal to provide more support. An average slide has more of a wedge than the average flip flop.
The Look
Flip Flops have so many variations of flip flops and it is usually hard to make a difference between slides. Flip flops look entirely different in terms of material, width, material, and so on. One thing that will always vary is the look of each sandal.

Silhouette – Flip flops are more minimalist, and therefore, look discrete.
Slides being usually wider stand out a bit more giving the wearer a more "chunky" silhouette.

Band Style – A slide's wider strap typically comes with logos, colors, and prints on the top of a slide. Flip Flops usually look subtle and more understated.

Good and Bad of Flip Flops and Slides:
Flip Flops
• They are lightweight, breathable and causal. Their simple colors help you mix and match with any outfit. There's no buckle to adjust on the flip flops. Just slip in them on and go!

• The strap going between the toes in flip flops grip the feet better than many other sandals. Wear them with good support without losing the shoe.

• Mostly, flip flops are waterproof, making them an ultimate choice for beachgoers.



Some concerns pertaining to flip flops:

• Wearing flip flops for several hours may lead to experience discomfort between the toes, especially where the strap rubs against the foot.

• Extensive use of flip flops sometimes causes or aggravate foot injuries. Due to this, it is a good idea to choose a flip flop with arch and heel support.
Slides
• Slides give more fashionable look. As slides styles are in vogue, there's a range of beautiful designs to choose from.
• Slides have mostly adjustable straps for a customized fit.
• Slides are more comfortable due to more space for the toes, especially if the wearer has a wider foot.
The drawbacks may be:
• The user may experience sliding off due to non-availability of strap at the back or between the toes.
• Slides take up more space and may not be the best choice for a beach vacation.