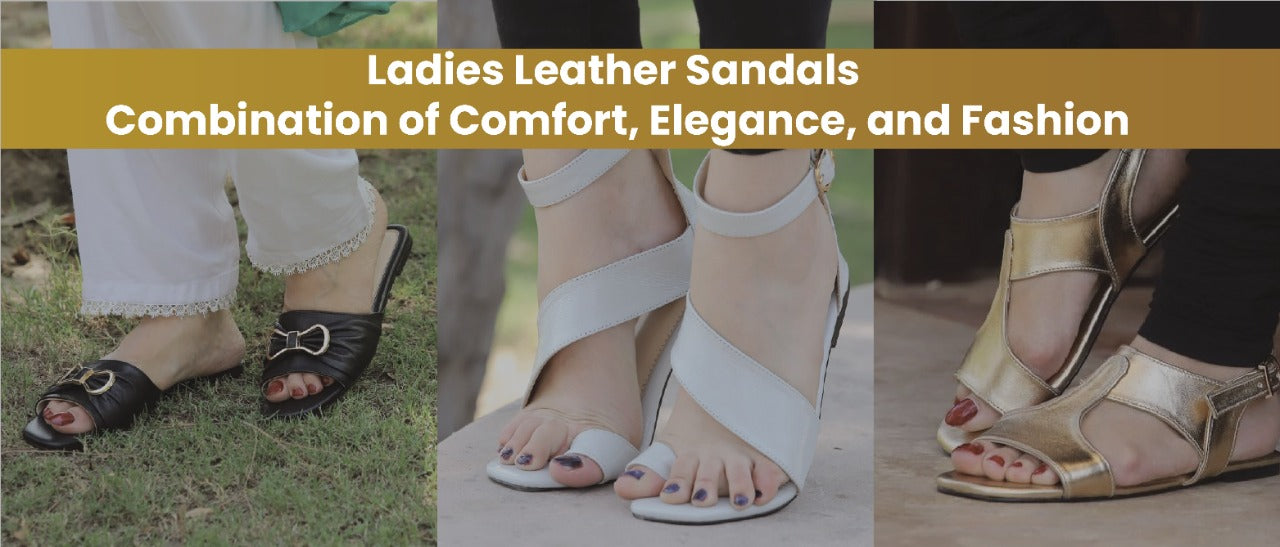 Leather Sandals: Combination of Comfort, Elegance, and Fashion
Leather, in general, has has always been associated with distinct qualities that separate it from other materials – comfort, style, and durability. These versatile features combine into the creation of premium genuine leather goods exhibiting the exuberance of craftsmanship in shoes.
For centuries, footwear industry all over the world has been extensively using pure genuine leather in varied forms. Ladies Leather sandals are particularly in demand by people who perform active jobs and besides displaying the essence of style, provide additional comfort and protection to their feet. It is even believed that good shoes play a vital role in shaping the personality and boosting confidence on one's face while meeting routine challenges. t's just one of many reasons why a classic pair of Oxfords shoes remain as relevant today as it was in the olden times.
Although, leather shoes usually carry a higher price tag compared to other synthetic materials, but it is the quality that mattes. Take the example of leather sandals, for instance. Today, leading manufacturers ae producing the best and most comfortable footwear like leather sandals which not only look great on the feet offer unruffled feel when worn on different occasions. Here are some of the real benefits of wearing Ladies leather sandals.
Durable:
As stated above, leather is synonymous with durability. Full-grain leather is a symbol of highest quality leather possessing substantial durability. It can last more than five times than any other material. With this significant advantage, genuine leather sandals are incredibly durable and extremely comfortable. They outclass synthetic ones and stay strong amidst the demands of changing work environments. The durability factor, however, relates to the use of product. If the wearer takes care of the footwear, the lather sandal might last for years.
Comfortable:
The durable nature of leather sandals makes them even more softener as time goes on because leather molds itself to the natural curves of human feet. When ladies or gents wear leather sandals, the footwears give them a remarkable feedback in the sense that the wearer feels walking barefoot on the floor. Even if the sandals are to be worn for long hours, their comfort level does not decline. They won't even harm the sensitive skin behind the ankle aera, or on the toes. Open sandals provide a serene level of comfort to the foot's sole.
Versatile: 
Costlier they are, but the versatile nature of leather sandals is worth the price. The custom made footwears are suitable for all seasons and look attractive in eye-catching designs. They complement the feet and make them more compact. Their shine makes them look apart from the rest in competition. Genuine leather does not only look stylishlooks stylish, it gives a look of a luxury item due to its sleek and shiny characteristics. Beauty, suppleness, and resilience enhance the versatile nature of leather sandals. Women, in particular, are inspired to look fashionable with trendy and stylish footwear and that is where experienced shoe manufacturers craft trendy designs in leather sandals while maintaining comfort and softness in the footwear.
Additional protection to the feet:
The need for protective footwear depends on specific jobs undertaken and their potential hazards to foot. The strength of natural leather offers extra protection from hitting and externally hot environment. Small accidents or injuries can be avoided. Whether the wearer wants to use them on hard surface, or in marshy areas like beaches, they look perfectly suitable to perform on different occasions.
Breathable:
Other materials are difficult to clean as they may lose their quality and strength on washing. As leather material is breathable, the footwears made form leather can easily be dried out even after washing. The leather sandals brilliantly let the air pass through the material. It keeps the feet cool and comfortable and does not produce smell in the shoe.
Water Resistance:
Synthetic leathers also wear out in an unattractive way whereas genuine leather ages over time and develops a patina, an important characteristic of leather. Well treated or waxed leather is highly resilient to liquids or water. Whether someone wears them in the kitchen or any other place where water can't be avoided, genuine leather sandals work extremely well and keep the feet dry besides avoiding any external damage to the footwear.
Easy to Clean and Eco-Friendly:
Leather footwears are always eco-friendly. They don't contain harmful chemical elements because they pass through a whole cleaning process in their make. It is always easy to put a shine on them either with a damp rag or with shoe polish, specifically made to bring shine and smoothness on the footwear.
Pleasant Smell:
Nothing matches the smell of a genuine leather sandal. Man-made materials are usually composed of chemicals that cause strange stink in the footwear they are used. The smell of synthetic footwears gives and unpleasant feedback if the wearers' feet leave a smell after long hours. Being a natural product, a genuine leather gives a refreshing smell.