Article: Top 10 Benefits of Real Leather Sandals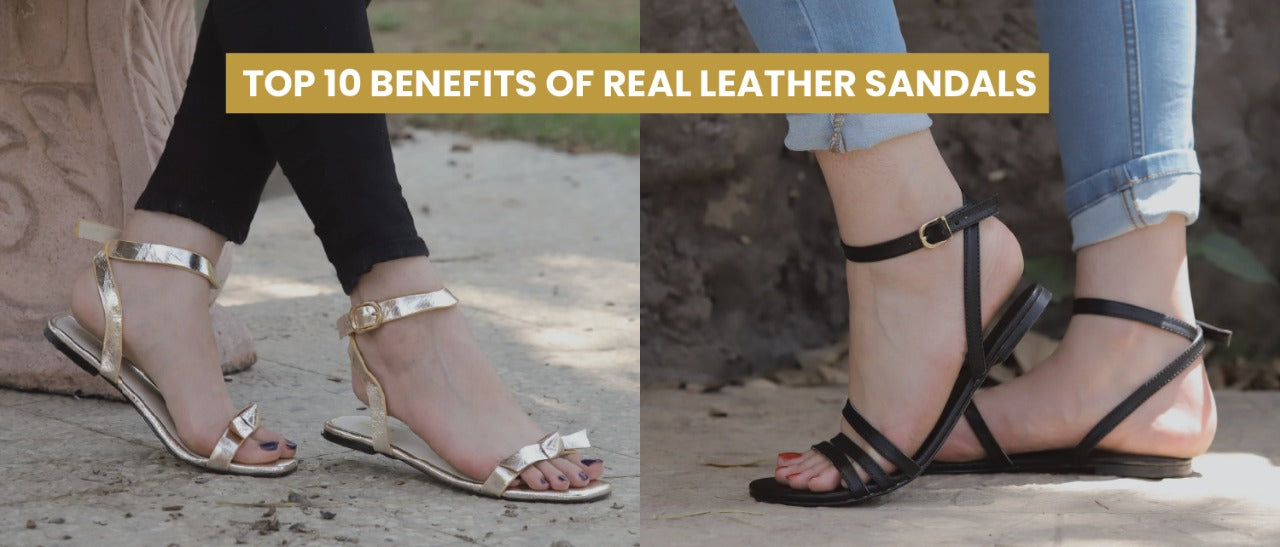 Top 10 Benefits of Real Leather Sandals
If you have you've never worn a pair of leather sandals for work or at home, then you're missing out something very unique footwear. Leather footwear are a popular shoes among men and women who remain busy in doing active jobs or need shoes to provide their feet an extra comfort and protection. Although, some people avoid buying leather shoes because they are known to carry expensive price tags as compared to other synthetic materials, still leather shoes loving people don't care about the price. For them, the price does not matter when it comes to relating so many benefits with leather shoes. From olden times to modern era, leather sandals have taken the females, in particular, in grip. We see why would ladies wear leather sandals. Is it for price or for some other good reasons?

Leather Sandals Are Worth The Investment
1. Breathable

Mostly customers do not know that leather breathes. It does not breathe though in reality, but it does let the air pass through the sandal. This is a great benefit with leather sandals as the leather material letting the air keeps the feet cool and does not create unpleasant smelling.

2. Durable

Another great benefit with leather sandals is that these footwears are extremely durable. Genuine leather sandals can outlive synthetic sandals. High quality leather stays strong against challenging work environments which means the sandals will last long.

Some people may get put off spending more for leather sandals but as they last long, buying leather sandals is a good investment. Buying one pair of leather sandals is much economical than buying two pairs of trouble prone synthetic footwears.

3. Water Resistant

The well processed and waxed leather sandals are a great resistant to water and other liquids. While working outdoors or at home, ladies often need to wear shoes that are water resistant to keep their feet dry besides avoiding any external damage to the shoe. Leather sandals can keep the feet dry from any spills or puddles.

4. Additional Protection

Although, leather sandals will never work like steel toe cap or composite capped shoes to provide protection to the feet, the strength of the genuine leather shoes is unquestionable. The additional protection from hot liquids or small falling objects is imperative with leather sandals. Ladies working in a challenging environment can protect their feet from accidents or injuries with leather sandals.

5. Excellent Fit

Ladies wearing leather sandals should be knowing that the leather material conveniently moulds to the shape of their foot. Using plastic or other synthetic shoes will always be hard on their tender feet because these types of footwears do not accommodate the shape of their feet. Every ones' feet are not exactly the same. Leather adapts to wearers' foot shape, giving their feet an extra comfort and support.

6. Simply Comfy

Finding the right shoes is very important to avoid an uneasy walk.
Besides being a naturally strong material, leather is also very comfortable. Leather sandals provide comfort and support to the feet.\

7. Easy to Clean

Other footwear fabrics may pose difficulty in cleaning. Leather sandals can easily be washed with a soft damp cloth. As leather is breathable, leather sandals aren't difficult to dry even after they have been washed. To get the best out of any leather sandal, females might need to look after them for long term use.

8. Stylish

Genuine leather sandals give a stylish look. No one can deny this. Sandals made from manufactured materials often look uneasy and unnatural. Leather sandals naturally look like luxury footwears since the material used in them is sleek and shiny.

9. Environment Friendly

Shoes made from synthetic materials are considered as damaging to the environment because during the manufacturing process, they tend to emit harmful gases. Leather being the natural material does not employ harmful chemicals, making it an environmentally friendly product.

10. Leather Sandals Smell Pleasant

Nothing is like genuine leather. After buying a synthetic leather sandal, one may feel unbearable odd smell. Man-made materials are usually made with different chemicals that deliver a strange stink. The smell of synthetic shoes adds to the misery if users' feet leave smell after a long shift.

Leather being a natural product has a natural and refreshing smell. If ladies have never felt the smell of genuine leather before, they should give it a try at some good genuine leather sandals outlet.

Summarizing it out, we can conclude that there are some undeniable benefits attached to wearing leather sandals. The leather footwears deliver an extra comfort and protection to the feet and the users also don't have to worry about their shoes. Ladies working for long hours wearing leather sandals need not to worry about their sandals slipping beneath their feet. Having a pair of genuine leather sandals is an investment that will keep their feet feel comfortable throughout the entire shift.