Article: How To Style Shoes with Bold Colors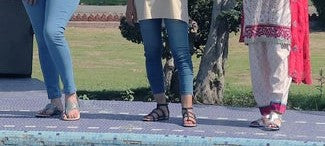 How To Style Shoes with Bold Colors
Are you looking for a unique approach to design your wardrobe and sense of style? You would always want your clothing style to be unique, trendy, and, most importantly, representative of your personality, whether you are dressing for business, everyday wear, or extraordinary events. However, whether you incline toward muted hues, choose professional attire, or attempt to keep it nice, your wardrobe might become a touch too identical. How can you create a fashion statement while still wearing your favorite looks?
The solution is, of course, shoes. No matter what event you are dressing for or what style of clothing you favor, the shoes you pick can have a considerable influence on your appearance. When you want to wear bolder clothing, wear bold shoes. Here are some styling ideas for outfits with great women's shoes ideas 
Use Your Shoes to Make Bold Fashion Statement
Do you enjoy natural neutrals such as tan, taupe, brown, and black? Maybe you like the aesthetic of relaxed whites and greys — or maybe you like subtle, understated colors with an urban edge. You do not want to get locked in one style, whether you wear primarily one-color scheme or like a gentle, uncomplicated approach.
If you do not want to add bright colors to your outfit with your shirts, jeans, and cardigans, select vivid shoe colors instead. A splash of color may go a long way. When you are wearing an outfit with safe, muted colors, add a pop of color with a stunning pair of shoes.
Match your tan-and-white sweater and pants with deep crimson ankle boots or brighten up your lavender dress with bright yellow flats. Royal blues, deep greens, rich purples, and other jewel tones complement grey suits beautifully. You do not even have to alter your footwear if you do not want to change much about your look. 
Choose eye-catching shoe colors for bookend contrast
If you are feeling very daring, you may make your use of vivid shoe colors even more daring by adding similar accessories at the opposite end of your dress. It is known as bookending, and it levels out your outfit by bringing out a single bright tone from both your foot and an item.
For example, a pale-yellow dress may be dressed up with bright red shoes and matching earrings, or a grey pullover can be dressed down with purple ankle boots and a violet-toned scarf. This basic yet daring style technique creates a statement and helps your entire ensemble stand out.
Do not Be Afraid of Wearing Vibrant Colors
Here is our final piece of advice: do not be scared to be daring! If your wardrobe could use some additional color, step outside of your comfort zone by wearing bright colors in your clothing and shoes. Combine those bright high heels with a lovely blue sweater — and make sure your pants are a neutral color. Make a statement with vibrant yellow cropped pants and eye-catching red mule shoes. Adding extra color to your clothing might bring more color into your life.